Tire Playground
We need to be a bit more patient in the moment. Patience, that is something, what the people here, with their own sense of time, have in their blood and can do very well.. For me it is still something I need to learn with my German timeliness and occasionally I can get irritated. We are still waiting for our art-container. I know for a fact that all doors and windows are installed. But when it is going to arrive in school, I really don´t know yet. One week, two weeks...? What to do in this time we have? Starting to work with the children in that tiny room we used to work before the holidays? And maybe after a very short time stopping in between because we have to move? Get interrupted in our work process, just when we have come to a rhythm? No, I do not want to do such thing. But just sitting around waiting, that is something I´d like to do even less!

old footpath (2015)
Two years ago, when we started with Ukubona at Zenzeleni, a footpath for senses was built on the school grounds. Old car tires, colorful painted by the children, lined up in front of our school garden and filled with very different materials. A school for senses for our feet. It is in a child's veins to romp around, not paying attention on everything. Thus, the path has disappeared over time. Tires were taken out of the path for other games, got alienated. The now empty space was crying for attention. What to do? The idea of using tires again was immediately there again. With Ukubona, we want to guide the gaze on what is around, surrounding us in our daily lives. In Khayelitsha you will find things like old tires lying around on almost every corner, the roadside or directly on the street. Old and used and left behind. Can it be transformed into something new? Children love to play with tires! So the idea of a small playground made of old tires was born. I first transported many of them to the school. Since it is too dangerous to stop anywhere at the roadside in Khayelitsha to collect the tires lying around I decided to get them somewhere else. They stand as an example for all of those out there. In the end I got them from a garage. Tires that would have been disposed. Received free of charge. Great, as an example. I started digging, shoveling and building. The very fine sand ground made it a bit difficult, especially because it if often very windy here. Slowly I made process. The children in the school started to look and come over to me. What are you doing? What is this? Can you show us how to play here?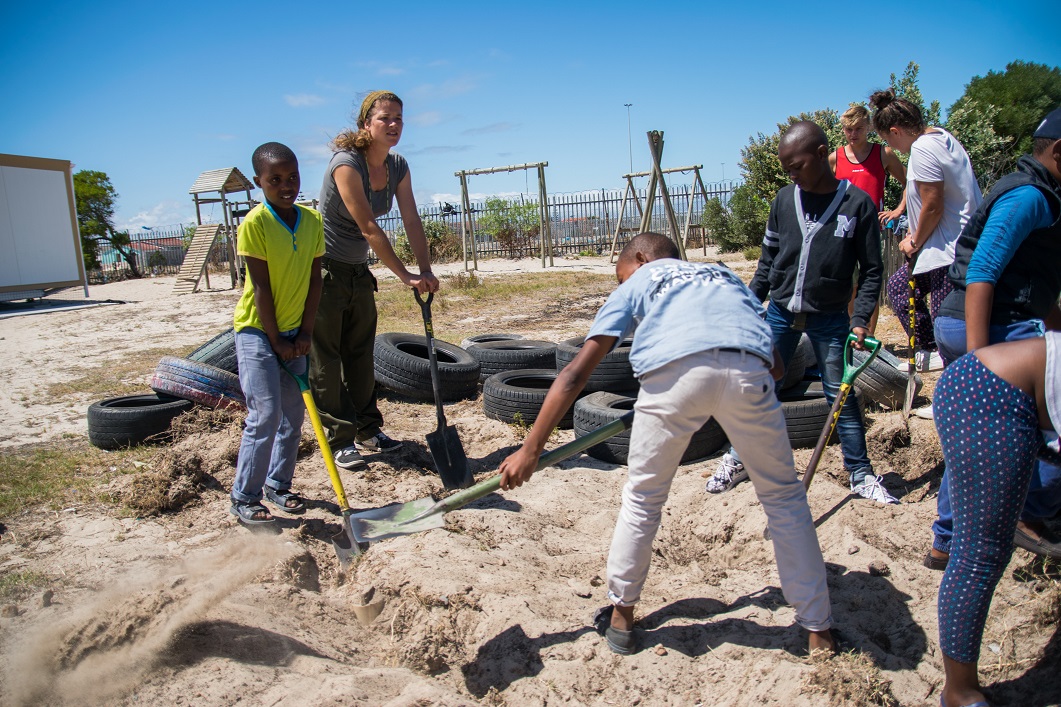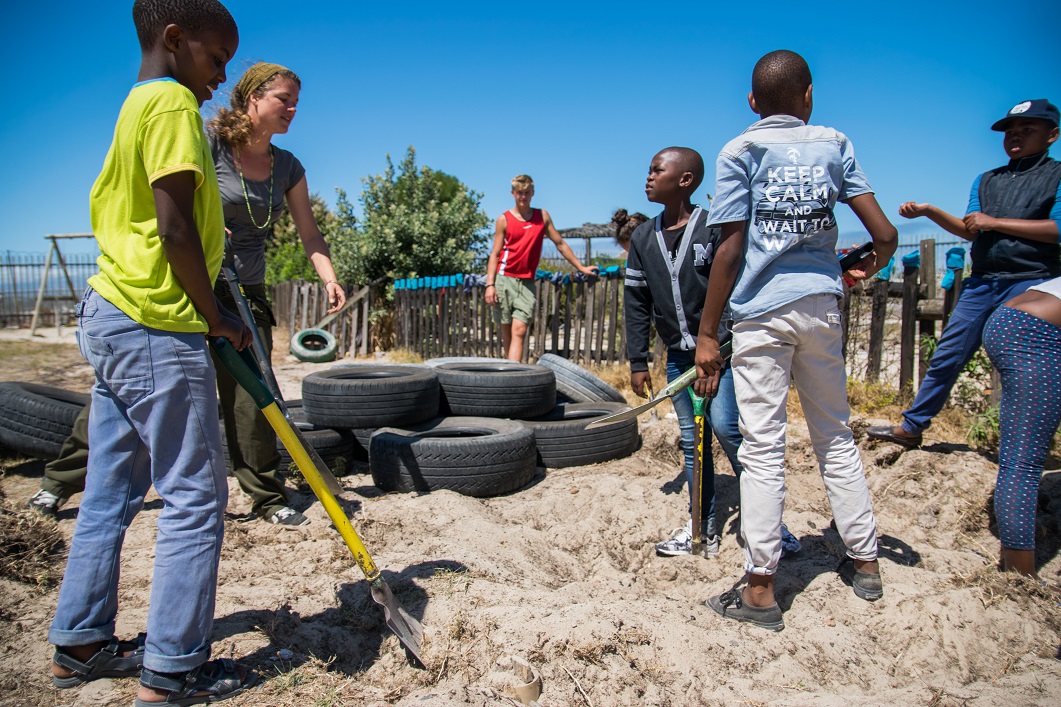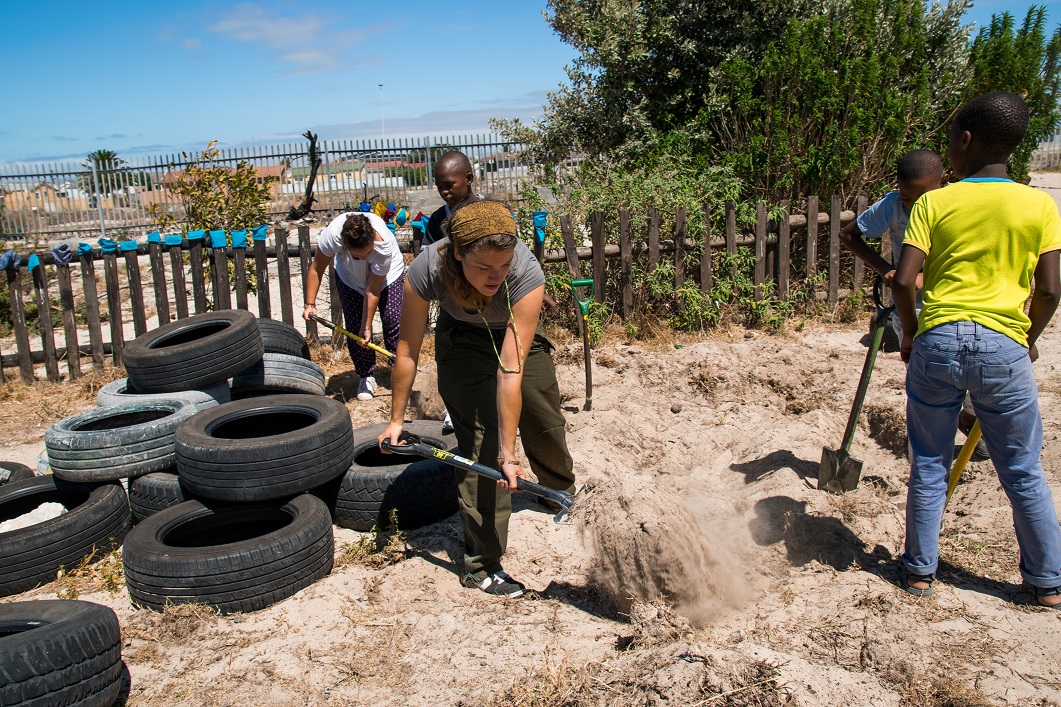 Already the second day I had a few guys from the fifth class around me, equipped with spades and a wheelbarrow. And they scooped and shoveled. Full of energy. In between, during some little breaks - this work, in the heat, can be pretty exhausting - we sat together and wondered how the whole thing should look like. The children should decide. Their school, their playground. Many creative minds were gathered here, full of joy when they heard that it was their responsibility and their own decision. Soon ideas came up on how the tires have to lie or stand. Maybe a bench out of tires and wooden boards next to it to rest and watch? Maybe we could make the tires a little more colorful, like the footpath, which was here before? What about putting all those different materials in the tires, also like before?
The next day, half of our work was taken apart. I guess the tires looked too seductive to play with and other children had taken the opportunity. It was such a disappointment, especially because it was the work of the children of the school. The ones who worked with me the day before also looked a bit sad. So this morning now I did a tour through all seven classes and presented the whole project once more properly. I explained what we were doing with those tires and that it would be a shame if we did not finish it. A school project, everyone to be welcome. In every class children's eyes looking at me, full of enthusiasm and amazement. Now they did understand. Can I help?
Since that morning, every day a bunch of children is coming over, all age groups, looking at the playground, watching or helping. All involved. Interrupting their own routine of playing during their breaks because they all want to help. The whole place takes shape. What is it going to look like in the end?
And in between, moments of discussion and conversations. About recycling, the nature and all those ideas we have. Especially about that subject of changing old into something new. Not every great thing has to cost a lot all the time. We all carry creativity in us. Let´s go, get it out, explore and play with it!